Although it may not be completely obvious at first glance, this is a bird feeder that our little bear and I made!
It happened (sort of) by accident after an *sigh* "I'm booooored" moment in the Summer holidays!  We received a Toucan Activity Box on trial and I had been saving them up, hidden away in a little cupboard far from little bear hands, especially for these moments!
So, we opened the kit up and after we'd glued the lolly sticks together and left them overnight to dry, it soon became apparent the next day that we hadn't got anywhere close to the house to hook the bird feeder onto!  I told our little bear that we would have to leave it on a picnic table.  Not ideal – I had visions of it blowing away!
In a flash of creative inspiration, our little bear watched as I made a dive into the shed and reappeared with some garden canes and ties.  What I did next with our bear is one of those amazing memories that I will cherish forever…  She helped me push the cones into the ground, fix the ties and attached the bird feeder.
I will cherish the moment because she was so determined, concentrated so hard and absolutely loved that we'd had to find a solution!
What have you done with your little one that meant thinking outside of the box?
Linking up with The Olivers Madhouse Magic Moments (click the badge below to go to the blog)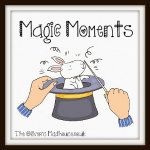 ~
Read my emotional and inspiring true story 'Diary of a Complicated Pregnancy'. Available now through my website at Virtually All Sorts. 50% of sales to the charity Action on Pre-Eclampsia. …and visit my facebook page or follow me on twitter @ComplicatedPreg
Also available – my indispensable guide to avoiding 'Working Mum Guilt'. Whether you are about to return or have already started back, this book offers practical solutions and feedback from real Mums with real families in real situations. Covering topics such as Post Natal Depression, childcare options, yours and your child's development and time management – Ditch the guilt today! … and visit my facebook page or follow me on twitter @WorkingMumGuilt
Follow Carol Cameleon's board Parenting blogs I love… And think you might too! on Pinterest.